I began riding at the highly respected, Central Arizona Riding Academy, CARA in Arizona and from there I moved to Trojan Horse Ranch to focus more on upper level eventing with Andrew Popiel. At CARA and Trojan I not only learned how to ride but I also learned about horsemanship, sportsmanship and life. I can only hope that I can impart upon my students some of the joy that I have gained from learning about these amazing creatures.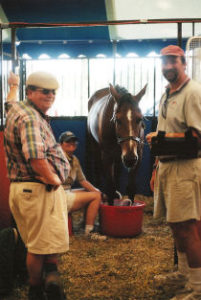 When I was in college I returned to CARA and began teaching under the guidance of Dorie and Uli Schmitz, who still remain very close friends and mentors in my life. Dorie and Uli taught me to train through positive encouragement and patience. And with those principles in mind anything can be accomplished. Throughout my riding career I have had the privilege of training with some amazing individuals such as Gerd Zuther, Jean Moyer, David O'conner, Jack LeGoff, Yves Sauvignon, Dayna Lynd-Pugh, Jimmy Wofford, Janet Brown, Edgar Hotz, Robin Hahn and Stefan Peters. From each of these trainers I was able to take something away with me that has only enhanced my understanding of the horse and opened doors to me that I never knew were there.
In 2005 I opened Simply 3-Day in Santa Fe, New Mexico and in 2011 Louanne Abrums- Sargent invited me to move into Luna Rosa Equestrian. The opportunity to train out of Luna Rosa allowed me grow my business in a way I could not have imagined.
In 2017 I had the opportunity to join forces with Amanda Jay and Shawna Karrasch in the under taking of  developing Terra Nova Equestrian Training Center, a newly designed positive reinforcement training center located on the previous Luna Rosa property. This is cutting edge opportunity to use scientific advances in understanding how people and animal learn most effectively and efficiently. It is a method of training that I have been using in my program for a number of years with great results and I am very excited to be part of this relatively new approach to developing horses and riders.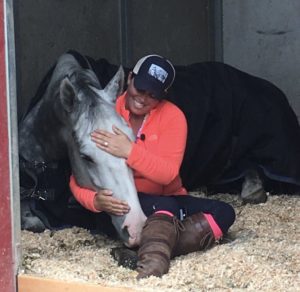 The bottom line is that I love to teach. To me there is no better feeling than to pass on something I have learned and to see a person understand something for the first time, to accomplish a goal, or simply enjoy the ride
.

Are You Ready? Is Your Horse?